"Ross did an incredible job on a very intricate Victorian mosaic hall floor for us. I can not fault his workmanship at all on a very difficult detailed job. Everyone comments what an amazing job he has done. 100% recommend.

Bow Brickhill Buckinghamshire

Octagon floor tiles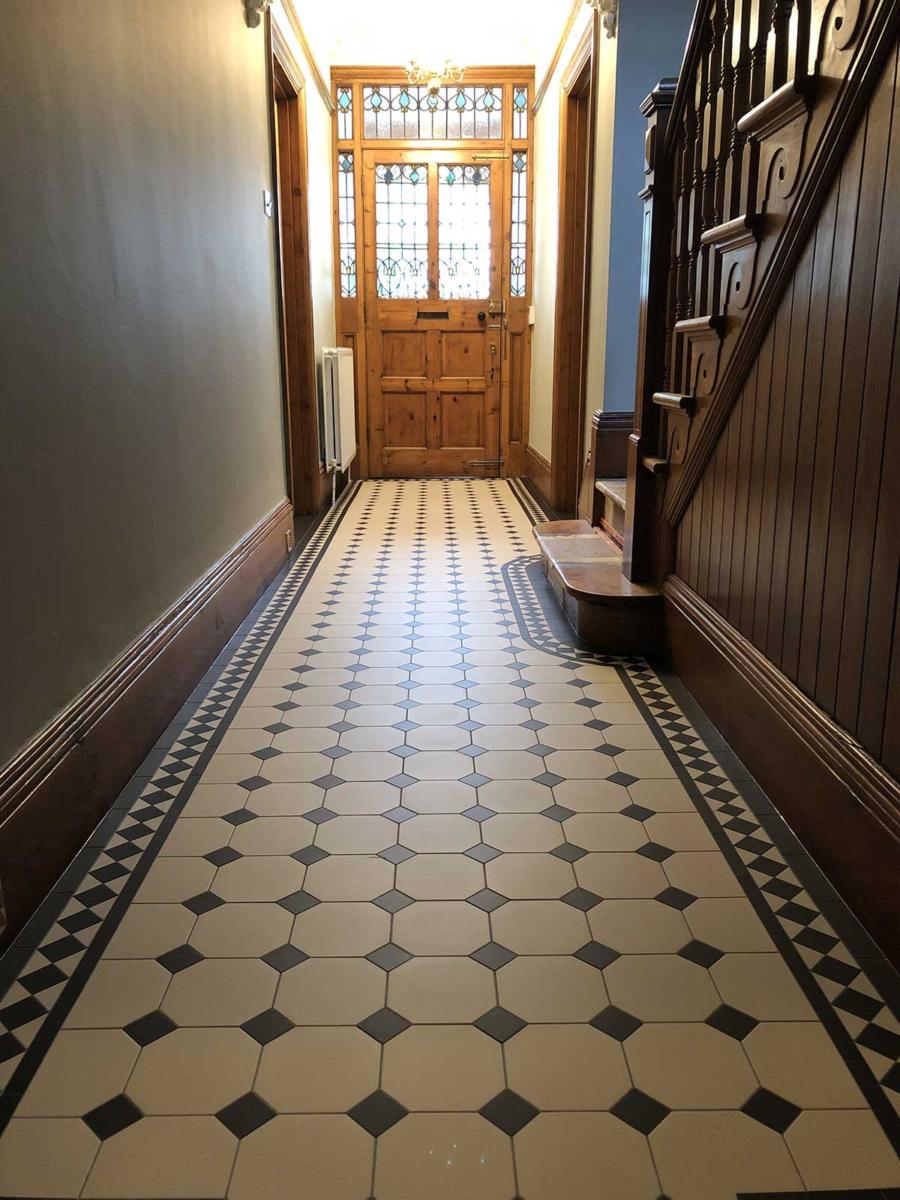 Victorian, Georgian and Edwardian geometric floor tiling specialist. I offer a complete service from design through to completion.
Victorian Tiled Floors which is part of Cedar Ceramics; a wall and floor tiling company based in Dunstable covering Bedfordshire, Buckinghamshire and Hertfordshire including Dunstable, Aylesbury, Harpenden, Hatfield, Hemel Hempstead, Leighton Buzzard, Luton, Milton Keynes, St Albans, Welwyn Garden City and Woburn.
What are Victorian Floor Tiles?
They are small individually coloured vitrified ceramic tiles of various sizes and geometric shapes that are arranged in repeating patterns.
These Victorian tile installations can be found throughout the UK in stately Victorian homes.
At the peak of the Industrial age, the fashion for this type of flooring grew enormously. Factory production on a vast scale created an affordable supply of these tiles to decorate the homes of the middle income group, enthusiastic to display their stylishness.
Victorian floor tiles were used for two main reasons, they were regarded to be decorative and also hygienic.
Artistically, the impact of hallways, paths or glazed ceramic porches served to impress any visitors.
This type of tile is extremely durable due to each tile having the same colour all over. This was accomplished by pressing and firing at high temperatures, colour ceramic dust. These were known as dust pressed tiles.
Many of these Victorian tile installation will be at least 150 years old. This is due to the quality of installation and tile manufacture.
Victorian floor tile patterns
The classic chequerboard black and white pattern was the most commonly used for pathways to more colourful and intricate designs used in hallways. Encaustic tiles were often used within the hallway designs.
Smaller mosaic tiles were often used for the entrances to shops and commercial properties displaying their logo or company name.
Reproduction Victorian Tiles
Working alongside reputable period tile suppliers, the range of reproduction floor tiles that we supply, are made in exactly the same way as Victorian times and therefore can be used to reproduce or repair this style of geometric design.
The traditional Victorian geometric tiling remains to this day and has grown in popularity over the last few decades.
This traditional style of flooring is an ideal way to complement and adorn both modern and period homes.
Why Choose Victorian Tiled Floors
We supply a high quality range of traditional Victorian floor tiles suitable for interior and exterior use. All the designs can be customised from colours to patterns. Please contact us today to discuss your requirements.
What are Edwardian Floor Tiles?
They are geometric ceramic tiles that traditionally came in a variety of sizes, shapes and colours.
The tiles were used to create a limitless array of tile designs to decorate and compliment period homes.
Edwardian floor tiles were a very durable and practical flooring choice which gave the wow factor.
Edwardian designs were usually earthy colours of brown, red, coffee (oatmeal), cognac (buff), grey, black and white. These designs tended to be simpler than the more intricate Victorian patterns, using larger tiles and basic borders.
What are Georgian Floor Tiles?
They are geometric ceramic tiles that traditionally came in a variety of sizes, shapes and colours.
Georgian designs were neo-Classical in appearance mainly using black and white tiles. Large format chequerboards were popular designs and also octagon based patterns, along with Roman style micro mosaic schemes.
Victorian Tiled Floors which is part of Cedar Ceramics, has over 15 years experience in this field and I understand the care and difficulties involved to create your beautiful floor.
99.70
Checkatrade percentage
Get in Contact Today & let us give you a quote.
Victorian Tiled Floors would like to hear from you.